Checking Account Option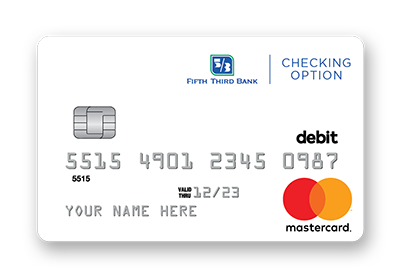 The IL ABLE Checking Account Option is provided through Fifth Third Bank, N.A. and gives Account Owners a flexible way to pay and save for current and future Qualified Disability Expenses.
Key Benefits:
Real-time Debit Card

Unlimited check writing

No overdraft or insufficient funds fees

Balances earn interest

FDIC insurance up to $250,000

Access to balance and transaction activity through online and mobile banking

Fifth Third Instant Alerts: Get immediate information on Account and online security and instant notices for card and spending activity

Monthly electronic or paper statement options

Access to over 55,000 fee-free ATMs

No monthly service charge, if you a) have an average monthly balance of $250 or more during your statement cycle OR b) establish E-Delivery. (Otherwise, it's $2.00 per month).
Risks and Details:
The Checking Account Option is primarily subject to the risk that the return on the checking account will vary due to changes in interest rates. The interest rate generally will be equivalent to short-term deposit rates. Interest will be compounded daily based on the actual number of days in a year and will be credited to the Checking Account Option on a monthly basis. The interest on the Checking Account Option is expressed as an Annual Percentage Yield, or APY. The annual percentage yield (APY) on the Checking Account Option will be reviewed by Fifth Third Bank on a periodic basis and may be recalculated as needed at any time. Contributions will not earn interest until the hold period expires and the funds are deposited to the account at Fifth Third Bank, N.A. To see the current Checking Account Option APY, please visit www.53.com or call toll-free 888-516-2375.
Funds in the Checking Account Option will be covered by FDIC insurance, subject to applicable limits and the application of Fifth Third Bank's and the FDIC's rules and regulations. Please visit www.fdic.gov for more information about FDIC insurance coverage. FDIC insurance is the sole insurance available for the Checking Account Option. For additional terms and conditions applicable to the Checking Account Option see Appendix B - Fifth Third Bank, N.A. Terms and Conditions in the Plan Disclosure Booklet.